MOBILI KIT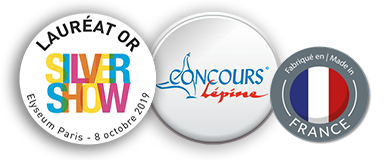 MOBILI KIT,
Your seat becomes mobile
Do you want to preserve your independence? Do you want to be more active and efficient in everyday life? MOBILI KIT is made for you. It will help you to move around, both at home and at work. With this power device you will be 5 times more active with 5 times less efforts! Sober, simple and silent, this device knows how to become discreet under a seat.
CONTACT US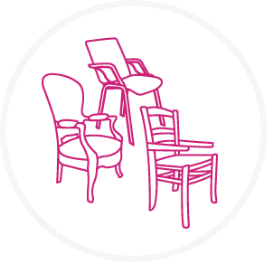 The Mobili Kit adapts to more than 80% of the seats with 4 legs. You will be able to keep on using your favorite chair.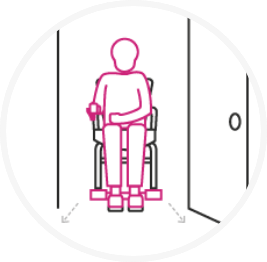 The Mobili Kit will allow you to move around easily even in confined spaces.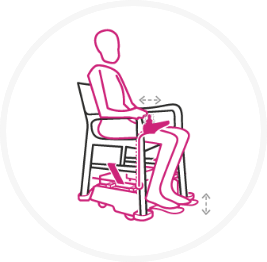 A jack will lower the footrests and lift the back of your seat to help you to get back on your feet.
WATCH ALL OUR VIDEOS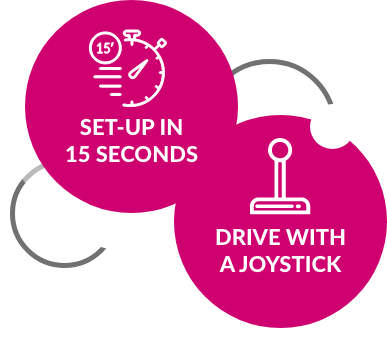 This power device has the shape of a 4-wheeled powered base, which ensures great stability. Thanks to its footrests, you will be able to move along in total safety. While in driving mode, the footrests rise from the floor.
The Mobili Kit is very simple to use: the setting must be done only once and takes 10 minutes only. Driving with a joystick gives a great precision and an incredible maneuverability. Mastering the Mobili Kit is very easy and will only take you 30 minutes.

Following the fitting of my prosthesis, sometimes I feel tired during the day and I have difficulties to walk. The Mobili Kit has changed my life! I can stay at home, I can do all my daily activities at home, and I'm sparing my shoulders. I can go anywhere even in confined spaces, but above all, I didn't need to modify anything in my interior layout.

Chantal D.

I already had a Light Drive fitted on my wheelchair. But it was difficult to move around indoors between the pieces of furniture and the corridors. Now that I have a Mobili Kit, I got a new lease of life, I can weave in and out! I have gained a lot of mobility, it's as maneuverable as can be. Backwards as well as forwards. It spins for U-turn, which makes life much easier in corridors. This device should be taken care of by the social security and all handicapped person should be equipped with!

Viviane C.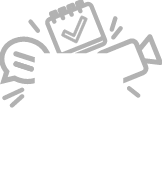 News, exhibitions, testimony, videos...
Stay up to date on Benoit Systemes news !